2019 INDIA - Feb 16-28
SEVA Trip & Mantra Retreat
COUPLES & Friends Discount - SAVE $400
10% of your trip cost support the schools we visit. SEVA means service in sanskrit and this is a SEVA TRIP.
Discover INDIA and be of service to the children in communities we visit. There is nothing like experiencing a culture through the eyes of the people.
This is not a sightseeing trip yet you will see much and be filled with joy as a result. Half the trip is offering our time to meet the people and visit the schools and orphanages which we support each year. And the following week we have the unique blessing of staying at the Parmarth Niketan ashram in Rishikesh, the city known as the capital of Yoga.
We have created a musical, magical, mystical adventure in the land from which the Vedas came into this world. Lets explore our deep personal connection through service and global social action.
Who will you be?
As I said this is not a sightseeing tour, yet you will see and be included in so much.
....our focus is not what we see, our focus is....who will we be through this amazing journey?
Your participation on this trip contributes to the schools we visit in the slums and at a special needs school in Delhi. You will actually be part of Karl's Mantra concert for them.
Also imagine being part of the Mantra concert tour in each city and experience the joy of giving to those who appreciate it the most. This is unlike any trip as it will enrich your life in profound ways through being present to the miracle of human connection and the human condition.
Ever since I created the Mantra Concert experience, I had a vision of both bringing Mantra to India, participating in the traditional Mantra Puja, and offering my music to schools in India. My dear friends, the Parmar Family have made it possible to lay the foundation for a Mantra Tour which is amazing!
This tour/adventure has been created to enrich your life and to connect with the people and culture of India. Sure, we will see many sites but that will only be a fraction of the bliss that awaits you.
You will come away with a better understanding of the profound wisdom, philosophies and scientific teachings of the Vedas and Bhagavad Gita by exploring service.
Who is this experience for?
· Those who want more than just a sightseeing trip.
· Those who want a better understanding of India, its people and culture.
· Those who want to understand the deeper meanings and use of mantras.
· Those who want a life enriching adventure.
· Those who want to participate in a Karl Anthony Music Tour.
· Those who want to see and bring pure joy to children's faces in India.
ITINERARY
(adjustments and changes are always possible because of opportunities and spontaneous invitations. I have found that planning an international trip to tightly like this will keep the real magic from happening. We will be a flexible group and open to the wonder and hospitality of our hosts and possibilities.)
Travel Day & Arrival: Your exact arrival will depend on where you are flying in from. Flights normally arrive the evening before or in the early hours of day 1. Either way, when you arrive, you will be greeted by the hotel appointed taxi driver. He will be waiting at the exit with your name on board and will transfer you to the Ameya Hotel for a well deserved rest. We have a 100% success rate in getting our guest safely from the airport to the Hotel.
Day 1 - Wellness Day...Relax Recharge: We begin with a late breakfast and our first group orientation. Today theme is "Self-Care", and we will be taking time to ground, integrate, breathe, relax and recharge our body's, minds and spirits with an optional trip to a local spa to receive a well deserved massage and other spa services.
Day 2 - Exploring Belief & Culture: Today's theme is "Belief". We will visit one of the largest and most incredible hindu temples in the world. Akshardham Temple.
Day 3 - Smiles In The Slums: In total contrast to previous day, today we visit one of the slums in Delhi and meet the kids and their families. This will be a very special day and it will fill your heart with joy from the reception we receive. On our way back to the Hotel we will stop at India Gate, a famous public landmark in Delhi.
Day 4 - Many Roads, One Destination: Today we travel by private coach through many small towns and villages to Rishikesh, located in the foothills of the Himalayas and known as the capital of Yoga. On the way we stop in the small holy town of Haridwar, "Gateway to the Gods" where ritualistic bathing is popular on the banks of the river Ganges. Upon arriving as the Parmarth Niketan Ashram, we settle in and take part in the ancient Aarti ceremony at sunset overlooking the River Ganges.
Day 5 – Explore and Expand: Today is about exploring magical and mystical town of Rishikesh, and expanding your conscious awareness by becoming present to your senses, tantalized by the sights, the sounds, the smells, the divine character of this town. After a brief orientation you'll have time to explore, shop, find a spot to journal, meditate, reflect. We will gather for the evening Aarti and sing by the Ganges.
Day 6 – Release Into the Sacred Fire: In the morning we will visit the 'Beatles' Ashram. In 1968, the Fab 4 (Beatles) stayed at this, now deserted ashram in 1968, the amazing Ashram of Maharishi Mahesh Yogi. In the afternoon we will be sharing and singing with Ashram Rishikumars (students of yoga and vedic scriptures). This is a wonderful opportunity to connection with these students. In the evening we get to be part of a special Agni Puja (fire Ceremony) performed by the Ganga, followed by Karl Anthony Mantra Kirtan for the public.
Day 7 – Fairytale Orphanage: After we transfer to the Divine Resort Hotel, a mile or so upstream and on the other side of the river, we will make our way to the magical fairytale (you'll appreciate what we mean by this!) Ramana's Garden Orphanage for for another SEVA (service) project, followed by an amazing lunch using ingredients organically grown at the orphanage. Friends of Ramana's Garden
Day 8 – Feel The Flow: After breakfast we make our way to a secluded spot along the banks of the Ganga, where we conduct our own private blessing and purification ceremony. You'll have the rest of the day to explore this wonderful area of Rishikesh.
Day 9 - The Return Journey: Depart Rishikesh and travel by private coach back to Delhi through small India villages. On our way back we will also be singing and getting prepared for our final and very special SEVA project which takes place on the following day.
Day 10 - Wonders of the World: Day excursion to Agra to witness the wonder and majesty of the Taj Mahal. You will also get to visit the Agra Fort, where the visionary of the Taj Mahal and then ruler was under house arrest by his own son for trying to build a second Black Taj for himself to mirror the white Taj he build for his wife.
Day 11 - We Are Special: Our last service project takes place at Amar Jyoti, an amazing special needs school. What started with one dedicated teacher and a handful of students under a tree, has flourished into an internationally recognized educational institute for low income families and special needs children. Your heart will be in overflow mode once you experience the beautiful work they are doing at Amar Jyoti. In the late afternoon, we will explore a local market and have a chance for shopping. And in the evening we enjoy a fun henna party with Bollywood music and dancing.
Day 12 - Celebrate The Gifts of Life: We'll gather in the morning for our closing ceremony, during which we share our memories, our key learnings from the previous 11 days. After lunch we get all dressed up for our celebration banquet dinner, followed by a spectacular Bollywood Musical at The Kingdom of Dreams.
Day 13 - DEPARTURE INFO: Many flights bound for US, leave early morning (12 midnight-4am), so you can opt to leave super early morning on the 13th Day, or the day of the 13th. We'll help you make travel arrangements to the airport by private hotel taxi to catch your flight homebound/onward to continue your next life adventure while contemplating and processing the memories you created in the magical land of India.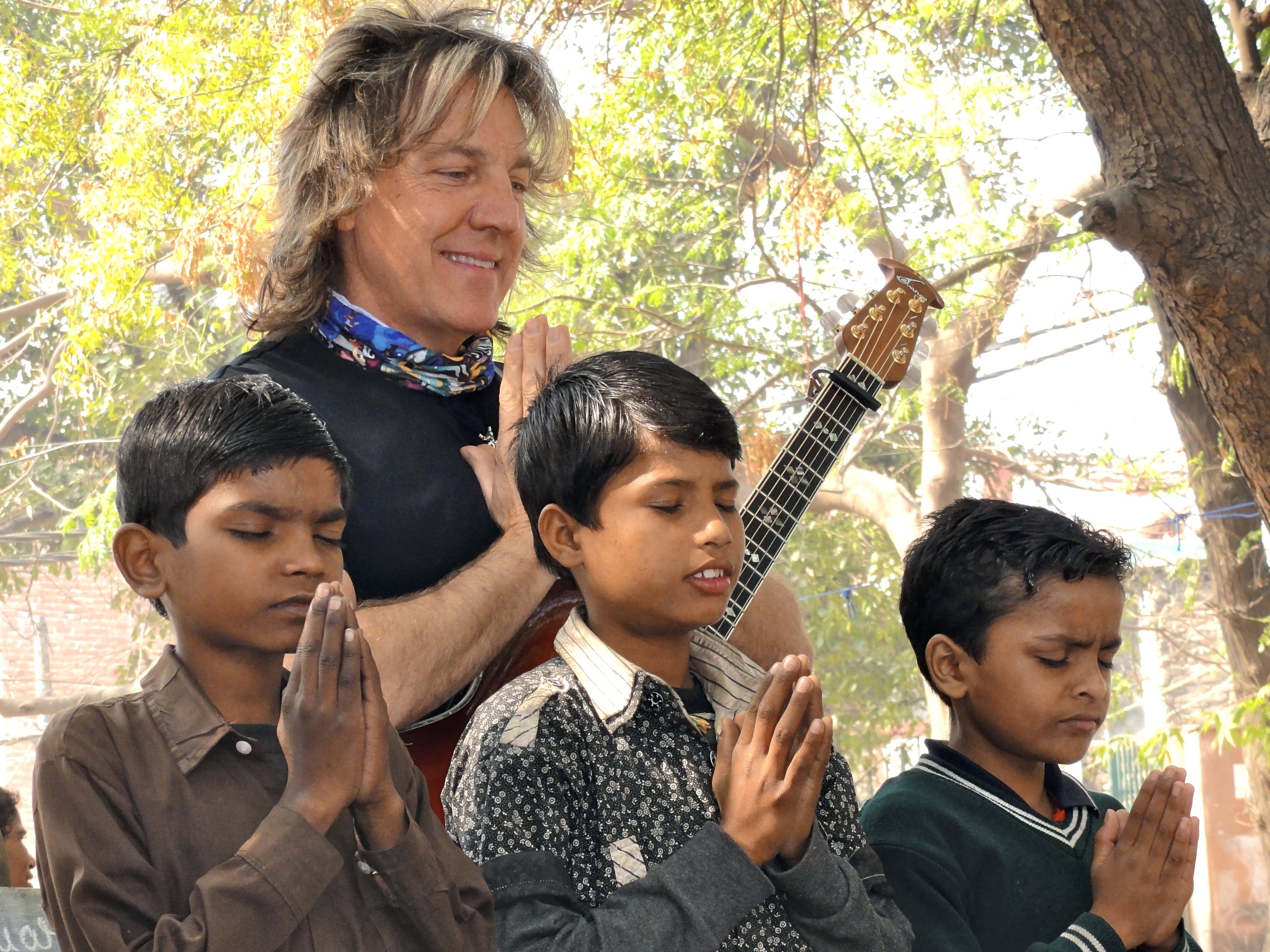 Price
One person: $4395 (double occupancy)
Couples & Friends ($400 discount): $8390
Single Room - additional: $795 (does not apply for ashram)
Children 14 & under $3595
Deposit $1500 (*non-refundable unless trip is cancelled for any reason.)
Fifteen (15) people is the minimum amount needed at these prices. Once we have deposits and commitment from fifteen travelers, we are ready to go!
FULL PAYMENT is due by November 1st
How Can I Pay?
Payment can be paid in several ways.
1. PAY BY CHECK
Checks written to Karl Anthony Music
Send Checks to....Karl Anthony, PO Box 103296, Carlsbad, CA 92013
2. USE A CREDIT CARD
*additional credit card company charges of 3% are added to the total.
4. PAY WITH PAYPAL.COM
*You can send money through Paypal for free if you have an account connected with a bank account.
INSTRUCTIONS:
1. Go to paypal.com and log in
2. Click on SEND & REQUEST
3. input my email - karl@karlanthony.com
4. Input amount & be sure it says, SENDING TO A FRIEND.
5. Click CONTINUE and select your bank account (or paypal balance)
6. Click NEXT & then SEND PAYMENT NOW
*be sure to select the Sending To A Friend Option when sending money so no fees are charged to either party by paypal. We must receive the full amount of your payment.
What's included in the Tour Price?
 12 Nights Accommodations (double occupancy)
 All ground transportation
 Coordination for service presentations in schools and orphanage.
 Most meals (a few lunches or a dinner may be on your own)
 The Parmar Family (Beejal & Yogi, our tour guides at all locations.)
 Nightly Artie ceremonies on the River Ganga.
 Transportation to and tour of the Taj Mahal
 All performances and concerts with Karl Anthony
 Spectacular Bollywood Musical at Kingdom of Dreams
What's not included in the price?
*Round trip airfare to Delhi is not included. You are asked to make your own airline reservations into the Delhi International Airport (DEL). If you are able to use frequent flyer miles to pay for your airfare be sure to reserve early.
*If you need assistance with your airline reservations we are happy to assist you.
*Personal items including gratuities
*Any additional night accommodations.
*Because of our schedule on just a few days, lunch/dinner will be on your own. Budget $10 for each of those meals.
*India Visa fees
Be sure your PASSPORT is up to date.
You may apply for your India Tourist VISA online at TraVisa. Here is a direct link: TOURIST VISA REQUIREMENTS ***Allow 8 WEEKS to process.
* We use TraVisa but there are other companies you can use as well. http://india.travisa.com
* For cancelations within 90 days of departure date, $1500 of your deposit is non-refundable due to securing hotels, ground transportation and administration cost. Within 45 days, 100% is non-refundable. *Be sure to secure your investment with travel insurance.
* On this trip you will be of Active Service and 10% of our trip cost will directly support the schools and orphanage we visit in India.
* A minimum of fifteen participants is required at the current price. If numbers are lower than fifteen the cost would need to increase slightly. If the trip is cancelled you will receive a full refund of your ground tour package.
DO NOT book your international flights until we communicate directly to you that it is time to do so.
Once we have the minimum amount of people (15) who have sent in their full deposits, it will be time to book our international flights. As soon as we reach that magic number you will hear from us and that is when we begin securing flights and applying for our India Visa. We are happy to assist you every step of the way
From the moment you say to yourself, YES, I am going, this adventure begins for you. Our host family the Parmars are excited to meet you and I am eager to introduce you to an amazing culture and many beautiful people and communities. You have signed up for something extraordinary and heart warming and I am thrilled to be your guide.

Namaste,

Karl
India Registration Form
PS Go ahead and fill out the registration form so we can prepare a seat for you on the bus.
MORE INFO.....
TRAVEL INSURANCE: Choose your Travel Insurance.
* Travel Insurance is HIGHLY recommended and Mandatory.
-Travel Insurance 101 http://www.travelinsurancereview.net/travel-insurance-101
-Tips for Best Travel Insurance http://www.travelinsurancereview.net
-Travel Insurance Company Reviews http://travel-insurance-review.toptenreviews.com
What about children?
As you know our host family has two children, Khushi and Shivani. They are a true joy and real plus to have on the trip and I could not imagine this experience without them. I promise you will appreciate what they bring to our trip yet at this time we can only accommodate adults participants ages 18 and older.
Excursions
Please be advised that you should bring VERY COMFORTABLE walking shoes. Many of the excursions will give us a chance to do plenty of walking together. Being physically prepared to walk semi-long distances is important, for instance the slum schools we visit will not have sidewalks.
Accommodations
Rooms are comfortable and clean. In New Delhi we will be staying near the schools we will visit. In the town of Rishikesh we will be staying at an ashram on the banks of the river Ganga. The ashram rooms are simple and yes they DO have western toilets. The ashram grounds are beautiful and the food is served indian style and plentiful. There are many visitors from all over the world who stay in the ashram which will enrich our experience.
Dress Attire
Summer casual will be appropriate for the entire tour. Our Farewell Dinner and Bollywood Musical night out is a chance to get a little dressed up if you would like, many people who attend do just that. This evening will be fun so dress up as you like for a nice dinner and broadway style show!
Important Note: Although you can dress casually please keep in mind that you may need a shawl or something with sleeves to enter the holy places, monasteries and ashrams that we will visit. You will not be allowed to enter if you have a sleeveless t-shirt or tank top of any kind. Shoulders and knees may need to be covered in some places like temples.
For the majority of the trip we recommend comfortable functional clothing. One warm layer. Hiking shoes or trainers or sandals AND flip flops. Sunglasses, mosquito repellent, small first aid kit, sun screen.
Documentation/Visa Requirements
Everyone must have a passport to travel. For those whose passports that are not U.S. Issued, it is your responsibility to obtain all the legal documentation and Visas from your country of origin. Contact your local government customs office or Embassy. Please note the countries that you will be entering: India (requires a VISA to enter. You may apply for your India Tourist VISA online at TraVisa.
*There are other companies as well, we use TraVisa.
Health & Fitness
Eating cooked food and drinking purified bottled water keeps everyone healthy. We even use bottled water for brushing our teeth, you should be fine. Shots and vaccines are NOT required but ask your doctor or wellness practitioner for their recommendations. India does have good doctors and hospitals if needed (to date we have not needed to use the service of either.)
To fully enjoy the experience, you should be able to....
Walk 3-5 km without any challenges. Climb stairs, etc.
*If you have asthma and/or bad allergies and are sensitive to dust/pollution we do not recommend this trip for you.
Hotel Contact Information?
Your final documentation packet will contain detailed information on the Hotels including the phone and fax numbers.
Weather
Expected temperatures range from a low of 65 F (night) to a high of 89 F (day). It is advisable to check the internet for up-to-date weather conditions before departure.
Mantra Tour India - FAQs
(Frequently Asked Questions)
Please read the following and sign at the bottom to acknowledge you have read this information:
Who is providing logistics for our tour?
I am happy to say that our key logistics angel is Yogi Parmar. Yogi will be on our entire trip with us and does an amazing job keeping our accommodations and schedule organized. She is supported by her chief tour officer, Namitha Acherya.
The Go Yogi Tours website is: http://goyogitours.com/
What is covered in the cost?
Accommodations: 100% fully covered.
Tours, Sightseeing & School Visits: 100% fully covered.
Ground Transport: Your ground transportation from and to Delhi Airport is covered provided you arrive with main group or at the same time. If your flight arrives at a different time, you will need to cover Cab costs (Rp.1000 / $15 each way).
Food: 90% of your food costs are covered.
Water: 90% of your water costs are covered.
How much money should I bring?
We recommend bringing CASH. $750 for light shoppers and $1000 for those who like to shop a little more. The approx break down of funds needed:
Tips $100 (recommended)

Donation to Ashram $30 (optional)

Massage on day 1 $50 (optional)

Water $20

Food $100

Credit cards are not widely accepted at many of the outlets we take you to for shopping.
Health & Wellness
We highly recommend you be of good physical and mental health for this trip. You should be able to walk 3km without any challenge carrying a small backpack.
Those with respiratory illnesses such as asthma and bronchitis should seek medical advice before saying yes to this trip.
Since we travel by bus, if you develop a cough you agree to wear a mask to protect other members of the tour.
By saying YES to coming on this trip you agree to seek medical attention within 24 hours of developing a fever or any symptoms that negatively affect your health even if you prefer natural remedies. While we support the use of natural remedies, if they have not helped within 24 hours of developing symptoms, you agree to see a medical professional.
Do I need to take inoculations or Malaria pills?
Inoculations are NOT required to visit India. However, you should talk to your doctor or medical travel advisor.
Malaria pills are a personal preference. The Parmar family, who have been in India for 5 years now, do not take Malaria pills.
How should I book my flights?
We recommend you book flights so that you either meet up with other group members and journey together to Delhi Airport, or you arrive at approximately the same time. Flight details will be shared with you 12 weeks prior to the departure date.
What about my Passport and applying for a Indian tourist visa?
You must have a valid Passport to travel to India. Valid means it should not expire from 6 months of the travel date.
India now has a visa on arrival program. You can apply for your visa on arrival online at: http://india.travisa.com/VisaInstructions.aspx?CitizenshipID=US&CountryID=IN&TravelerTypeID=ETAO&ResidenceID=US&PartnerID=TA
Save time at Delhi Airport: You can also apply for your visa before you travel. This requires you to send your passport to the Indian Embassy via Travisa (a visa processing company). http://india.travisa.com
Do I need travel insurance?
Yes, travel insurance is mandatory and MUST be purchased prior to traveling. You are responsible to secure insurance for your trip and your flight cost. You never know if you would need to adjust your plans at the last minute.
Is there a Release of Liability form for this tour?
All members who say YES to the Mantra Tour must sign a release of liability form for any health conditions that arise, accident, and death. By saying YES, you hold harmless Karl Anthony, Beejal Parmar, Yogi Parmar, Shivani Parmar, Khushani Parmar and any member of the Mantra Tour team.
Is there an Audio Video Release for this tour?
By saying YES to the Mantra Tour you automatically give permission to Karl Anthony, Beejal Parmar, Yogi Parmar and their businesses to use any photos and videos taken for commercial use. Any other member of the tour does NOT automatically get the right to use your photos or videos for commercial reasons without written consent from you.
Do I need to buy my own water?
Water is provided during the tour. However, during your stay at the Ashram, you will be required to buy your own water.
Use bottled water for drinking and brushing your teeth.
Do I need to pay for my own Food?
Approx 90% of the meals are paid for. All group meals are paid for. There are a few (4-5) meals you will have to pay for. Budget $10 for those meals.
General rule of thumb, only eat cooked food. The exception to the rule is any fruit that you have washed in bottled water, peeled and onions.
When we visit the orphanage you can eat the salad prepared there for it is washed with purified water..
What clothing do I need to bring?
February is the transition from the colder winter months to warmer sprint climate. However, it can be unpredictable so we always advise layers.
Usually a water-proof / rain-proof outer layer, a fleece or warm outer layer, a warm hat, and two inner layers is more than adequate.
How much luggage should I bring?
Pack for 14 days but also pack as light as you can. Leave space in your bags, as you will be coming home with souvenirs, clothing, statues, shawls, beads, etc.
Small day pack (backpack / side bag): we recommend you invest in a small back-pack or side bag that you keep with you for any essential items like water, water proof jacket, camera.
Passport & Money pouch: we recommend you buy a passport and money pouch which you keep on you under your clothing. If your hotel room has a safe, we recommend you use it.